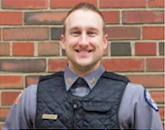 A Message from the Chief
The philosophy of the Department of Public Safety is to view our campus as a "base camp" where our students can live, learn, and grow in a safe environment. Our students go out and minister in countless ways throughout the city of Chicago every single day, and it's our goal to ensure a secure campus community for them when they return.
It's been the mission of Public Safety to utilize our profession's best practices, training, and technology to address threats to life and property while upholding the values that define the Moody Bible Institute. We're committed to the belief that it's possible to protect our campus community with excellence while upholding the highest standards of integrity, professionalism, and respect for those we serve.
Please take the opportunity to familiarize yourself with the resources and services offered by our department, and don't hesitate to contact us with any questions or concerns!
Brian Stoffer
Chief of Public Safety
Contact Us
Office Hours:
Crowell Lower Level
Mon–Thurs, 8 a.m.– 4 p.m.
Fri, 8 a.m. – 3:30 p.m
Contact Info:
24/7 Emergency Phone: (312) 329-4357
Dial "HELP" (x4357) from any campus phone or press the button on any blue emergency phone to be connected directly to our dispatch center.
Email:
Social Media: